Inspired by Zadi's HalloweenVlogfest2005, I try to capture the most about Halloween in the shortest time!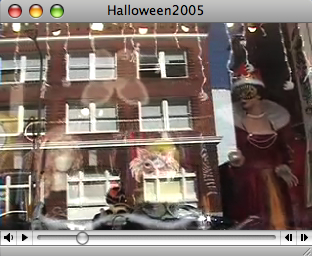 I am having problems getting .mov to compress better than .m4v. I end up with lower visual quality and a larger file. If anyone has recommendations, I am all ears.
Update: I got some great tips from Freevlog and highly recommend the site if you are learning how to do this (like me).
updated: fixed broken link! Oct 10, 2006.
Shot with a Sony HC20 and edited with a stock iBook G4 and iMovie. Music is Festival De Luces, played by
Incendio.
Frontage with Chavez Park loop: 1:07:14
Technorati Tags: Halloween, HalloweenVlogfest2005, pumkin, costume, trick-or-treat, jack-o-lantern, holidayipod, videopodcast, vlog