Since 1967, The Cheeseboard Collective in Berkeley's Gourmet Ghetto has been baking some really great food in addition to their deep selection of cheeses. One of the nice pleasures of waiting for a slice of delicious pizza is getting some tasty live music too!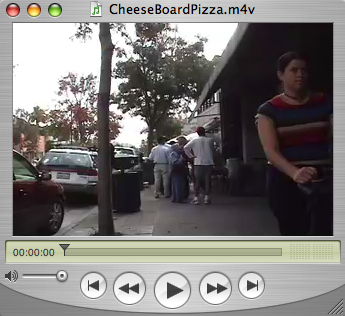 Enric from Cirne.com was over in Berkeley too, vlogging another culinary experience: Geek Dinner at Fellini. He bumps into several notable folks including Matt Mullenweg, one of the creators of Word Press. Great to hear Word Press is working on support for vloggers in the next release!
By the way, check out Matt's new product called Akismet. It hopes to end comment spam on blogs. I've just downloaded the API, and will give it a spin.